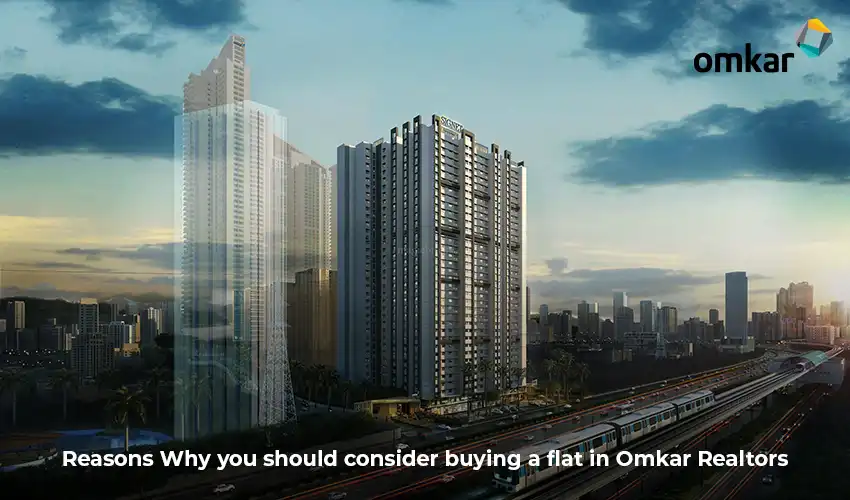 Reasons Why you should consider buying a flat in Omkar Realtors
If you are in the market for a New Residential Property in Mumbai, you know that the options can be overwhelming. With so many factors to consider – location, price, size, amenities – it can take time to know where to start. One option that is definitely worth considering is a flat in Omkar Realtors. In this blog, we will delve into the numerous reasons why purchasing a flat in Omkar Realtors is a smart decision. From the prime locations of their properties to the quality construction and wide range of options, Omkar Realtors has something for everyone. In addition, their commitment to customer satisfaction and investor-friendly financing options make them an especially attractive choice. So if you are ready to take the next step in your housing journey, read on to discover all the benefits of buying a flat in Omkar Developers.
Location, location, location: It is a well-known axiom of the real estate industry that the worth of a property is inextricably linked to its proximity to amenities and conveniences. Omkar Realtors properties are situated in some of the most desirable neighbourhoods in the city, granting you access to a cornucopia of cultural, culinary, and recreational delights.
Quality construction: Omkar Realtors has a reputation for constructing homes of the highest calibre, with uncompromising attention to detail and a commitment to using only the most durable and dependable materials. When you purchase a flat in one of their developments, you can rest assured that you are investing in a structure that will withstand the test of time.
A plethora of options: Whether you are in the market for a cosy studio or a spacious three-bedroom flat, Omkar Realtors has many Projects in Mumbai to suit your individualised needs and preferences. No matter your budget or lifestyle, you are sure to find a dwelling that meets your specifications.
Amenities galore: In addition to the prime location and top-notch construction, Omkar Realtors properties also come equipped with various amenities designed to elevate your living experience. Swimming pools, fitness centres, and playgrounds are just a few examples of the luxurious features you may have at your disposal.
Strong resale value: Omkar Realtors is one of the best Real Estate Companies in Mumbai whose properties are highly sought-after, which translates to a robust resale value. Should you decide to sell your flat at any point in the future, you can expect to receive a handsome return on your investment.
Customer satisfaction: Above all, Omkar Realtors prioritizes the satisfaction of their customers. From the sales process to the move-in process and beyond, the company goes to great lengths to ensure that your experience is as seamless and stress-free as possible.
In summary, acquiring a flat in omkar realtors & developers represents a veritable panacea for your residential needs and desires. With their prime locations, superior construction, a wide array of options, and commitment to customer satisfaction, they offer a one-stop solution for all your housing needs.